The granite maul is a two-handed melee weapon that requires 50 Strength and Attack to wield. They are dropped by gargoyles (75 Slayer required), which are in the Slayer Tower.
Players can use a granite clamp, obtained from the Bounty Hunter Store, to cosmetically enhance the granite maul, creating a granite maul (or). This only alters its appearance, and becomes untradeable. It can be reverted, but the clamp will not be retained.
Bonuses
Hover over image for type

A player wielding a granite maul.
 Attack bonus
+0
+0
+81
+0
+0
 Defence bonus
+0
+0
+0
+0
+0
Other bonuses
Slot

list

+79
0
0%
+0
Special attack
Edit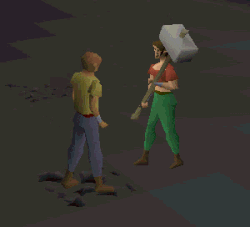 The granite maul's special attack, Quick Smash, consumes 50% of the player's special attack energy and deals an instant attack. This can result in two or three hits in a short amount of time, making it a popular choice for player killing. It's also commonly used in Nightmare Zone in combination with the Power surge power-up as your special attack recharges almost instantly.
Note: initiating combat with the granite maul's special attack is wasteful as the game does not deal an instant hit afterwards, with the regular delay occurring.
Dropping monsters
Edit
Weapons

Armour

Other

 Clamp
Mace

 Bronze •  Iron •  Steel •  Black •  White •  Ancient •  Mithril •  Adamant •  Rune •  Tzhaar-ket-em •  Dragon

Warhammer

 Bronze •  Iron •  Steel •  Black •  White •  Mithril •  Adamant •  Rune •  Dragon

Cane
Kitchen weaponry
Maul

 Gadderhammer •  Granite maul •  Tzhaar-ket-om •  Elder maul

Mjolnir

Other

 Hill giant club •  Barrelchest anchor •  Verac's flail •  Torag's hammers •  Abyssal bludgeon
Ad blocker interference detected!
Wikia is a free-to-use site that makes money from advertising. We have a modified experience for viewers using ad blockers

Wikia is not accessible if you've made further modifications. Remove the custom ad blocker rule(s) and the page will load as expected.