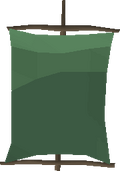 The green banner is an item that was made available during the MacMillan Cancer Support Charity Event that was hosted during the 14th and 15th of November 2015 via usage of the rotten onion, which was distributed by Jagex Moderators to certain players of the Old School RuneScape community. It was made available from Diango's Toy Store the week after.
Bonuses
Hover over image for type

A player wielding a green banner.
 Attack bonus
+0
+0
+0
+0
+0
 Defence bonus
+0
+0
+0
+0
+0
Other bonuses
Slot

list

+0
0
0%
+0
Ad blocker interference detected!
Wikia is a free-to-use site that makes money from advertising. We have a modified experience for viewers using ad blockers

Wikia is not accessible if you've made further modifications. Remove the custom ad blocker rule(s) and the page will load as expected.