Start point
Talk to Sylas in Taverley.
Official difficulty
Master
Description
"Once upon a time in a land far, far away..." Sylas, a collector of items both wondrous and unusual seeks out the latest additions to his trove with a somewhat unusual prize for the finder.

Terrors and towers await; fierce battles with giant beasts; striding boldly to rescue a dwarf in distress! Not a quest for the meek or faint-hearted, prepare yourself for a feast of fairy-tale fun with rewards a-plenty! The Brothers Grimm could never have foretold a tale such as this...

Length
Medium
Requirements
Items required

Recommended:

Enemies to defeat
Glod (level 138)
Walkthrough
Edit
Griffin's feather
Edit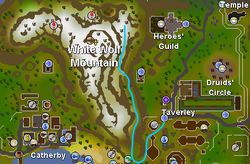 Items required: None
Rupert's helmet
Edit
Items required: None
Go to the stone tower south of the mind altar.
Climb over the crumbling wall. (58 Thieving)
Talk-into to the drain pipe twice.
Climb the beard and talk to Rupert the Beard. (59 Agility)
Climb down and talk to Miazrqa behind the tower.
Miazrqa's pendant
Edit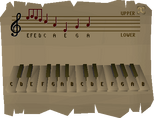 Items required: leather gloves (optional), 2 tarromin potions (unf)
Enter the basement of the Witch's House in Taverley.
Play the notes E-F-E-D-C on the right side, then A-E-G-A on the left side.
Search the piano.
Add the shrunk ogleroots to your unfinished potions (52 Herblore).
Go to the ground floor and drink a shrinking potion by the mouse hole.
Note: If you need another shrunk ogleroot you must get one by killing Experiments No.2 in the witch's basement.
Note: Level 95 mice will attack you while in this area, hitting up to 9 damage. Protect from Melee prayer is advised if in low armour gear.
Climb up the nails to the north-east.
Climb up the nails to the south-west.
Climb up the nails to the south.
Climb down the nails to the north-east.
Climb up the nails to the north-east.
Take the pendant.
Give the pendant to Miazrqa.
Optional: You can talk to Miazrqa and Rupert again to unlock extra humorous dialogue.
The beanstalk
Edit
Items required: Combat equipment, any woodcutting axe, a seed dibber, a watering can, Rupert's helmet and a shrink potion
Give Sylas the Rupert's helmet.
Plant and water the beans in the plot SW of the Taverley tree patch (45 Farming).
Climb up the beanstalk (59 Agility).
(This is instanced, if you die you lose your stuff)
Defeat Glod and pick up the golden goblin.
Talk to Sylas.
Use a shrinking potion on the beanstalk then chop it down (71 Woodcutting).
Talk to Sylas.
Quest complete!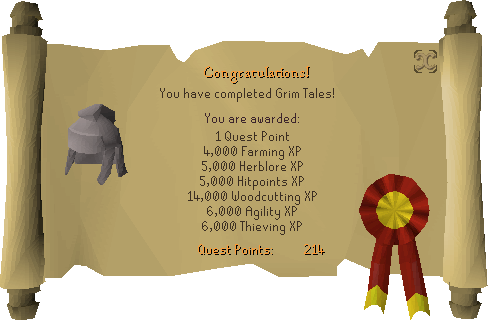 NPCs

Sylas • Rupert the Beard • Miazrqa • Grimgnash • Winkin

Monsters

Experiment No.2 • Glod • Mouse

Items

 Magic beans •  Griffin feather •  Miazrqa's pendant •  Door key •  Music sheet •  Shrinking recipe •  To-do list •  Shrunk ogleroot •  Rupert's helmet •  Golden goblin

Reward

 Dwarven helmet

Locations

Music

Related

Quick Guide