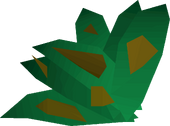 A grimy tarromin is a herb that has not yet been cleaned to make a tarromin. Grimy tarromins may be grown from a tarromin seed with a Farming level of 19. It is dropped by certain NPCs. Cleaning a grimy tarromin requires a Herblore level of 11 and gives 5 Herblore experience. Clean tarromins are used to make Strength potions and Serum 207s with a Herblore level of 12 and a Herblore level of 15 respectively. Clean tarromins can also be used with swamp tar to create tarromin tar at level 39 Herblore. Grimy tarromins may also be obtained from the Sorceress's Garden minigame.
Normal herbs

 Guam leaf (Grimy) •  Marrentill (Grimy) •  Tarromin (Grimy) •  Harralander (Grimy) •  Ranarr weed (Grimy) •  Toadflax (Grimy) •  Irit leaf (Grimy) •  Avantoe (Grimy) •  Kwuarm (Grimy) •  Snapdragon (Grimy) •  Cadantine (Grimy) •  Lantadyme (Grimy) •  Dwarf weed (Grimy) •  Torstol (Grimy)

Special herbs

 Ardrigal (Grimy) •  Bruma herb •  Doogle leaves •  Goutweed •  Rogue's purse (Grimy) •  Sito foil (Grimy) •  Snake weed (Grimy) •  Volencia moss (Grimy)

Chambers of Xeric
Ad blocker interference detected!
Wikia is a free-to-use site that makes money from advertising. We have a modified experience for viewers using ad blockers

Wikia is not accessible if you've made further modifications. Remove the custom ad blocker rule(s) and the page will load as expected.