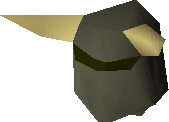 Guthan's helm is melee armour worn in the headwear slot that is part of Guthan the Infested's set of barrows equipment. To wear Guthan's helm, a player must have 70 Defence.
Being part of Guthan's barrows set, if Guthans helm is worn along with all of the other pieces of equipment in Guthan's barrows set the player receives a special effect. Successful attacks have a chance of replenishing hitpoints equal to the damage the player deals. This piece of armour cannot be made using the Smithing skill.
Despite Guthan's having more than average combat stats, it is mostly used by players to heal (and saves space that would have been used bringing food) and then they revert back to their regular melee armour. This method saves money and ultimately puts off having to repair the armour as regularly.
Guthans helm is only tradeable when undamaged or fully broken.
If you drop this item it will degrade to "0".
Bonuses
Hover over image for type

A player wearing Guthan's armour.
 Attack bonus
+0
+0
+0
-6
-2
 Defence bonus
+55
+58
+54
-1
+62
Other bonuses
Slot

list

+0
0
0%
+0
Dharok the Wretched
Torag the Corrupted
Ahrim the Blighted

 Set •  Hood •  Robe top •  Robe skirt •  Staff

Verac the Defiled

 Set •  Helm •  Brassard •  Plateskirt •  Flail

Guthan the Infested

 Set •  Helm •  Platebody •  Chainskirt •  Warspear

Karil the Tainted

 Set •  Coif •  Leathertop •  Leatherskirt •  Crossbow (Bolt rack)
Ad blocker interference detected!
Wikia is a free-to-use site that makes money from advertising. We have a modified experience for viewers using ad blockers

Wikia is not accessible if you've made further modifications. Remove the custom ad blocker rule(s) and the page will load as expected.