The Hairdresser can change players' hair colour and style for 1,000 coins. He is located in western Falador, north of the bank.
For male players, either beard or hairstyle will cost 1,000 coins. Since female players cannot have beards, their haircuts will cost 2,000 coins.
For a list of the available hair choices, see Hairstyles.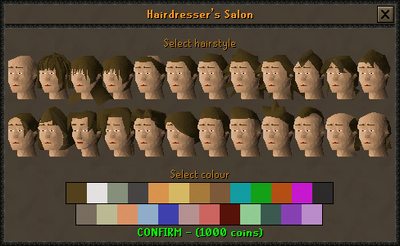 Ad blocker interference detected!
Wikia is a free-to-use site that makes money from advertising. We have a modified experience for viewers using ad blockers

Wikia is not accessible if you've made further modifications. Remove the custom ad blocker rule(s) and the page will load as expected.