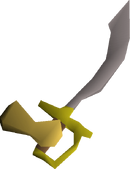 Harry's cutlass is a special weapon sold by Smith on the docks of the island of Mos Le'Harmless. It originally belonged to a pirate named Brass Hand Harry, who lost his right hand in a battle off the coast of Karamja. He had Smith create a cutlass with a gauntlet fixed to the hilt in order to continue fighting. Smith will sell one to the player for 1,040 coins. It requires an Attack level of 20 to wield.
The gauntlet fits over the equipment on the player's hand slot and offers a small defensive bonus. To be able to understand Smith and purchase the cutlass, the player must have a Book o' piracy in inventory. Talk to Smith and select the 'cutlasses' option in the dialogue box.
Bonuses
Hover over image for type

A player wielding Harry's Cutlass.
 Attack bonus
+3
+14
+0
-5
+0
 Defence bonus
+4
+4
+4
+0
+0
Other bonuses
Slot

list

+22
0
0%
+0
Combat styles
Edit
Ad blocker interference detected!
Wikia is a free-to-use site that makes money from advertising. We have a modified experience for viewers using ad blockers

Wikia is not accessible if you've made further modifications. Remove the custom ad blocker rule(s) and the page will load as expected.