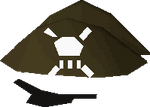 The Hat eyepatch is acquired by taking both a Pirate's hat and an eyepatch to Patchy on Mos Le'Harmless. Players can also take it back to Patchy to revert it into the original items. It costs 500 coins to attach the items together and 600 coins to take them apart.
Although the pirate hat is a level 3 Treasure trail reward, the hat and eyepatch cannot be stored in a Mahogany treasure chest in the Costume room of a Player-owned house.
Bonuses
Hover over image for type

A player wearing the pirate hat and eyepatch
 Attack bonus
+0
+0
+0
+0
+0
 Defence bonus
+0
+0
+0
+0
+0
Other bonuses
Slot

list

+0
0
0%
+0
Eyepatches

Bandana eyepatch •  Hat eyepatch •  Pirate hat & patch •  Double eye patch

Other

 Beret mask •  Cavalier mask •  Crabclaw hook •  Top hat & monocle •  Partyhat & specs

Components

 Right eye patch •  Left eye patch • Pirate bandana •  Pirate's hat •  Big pirate hat •  Mime mask •  Black beret •  Highwayman mask •  Black cavalier •  Crab claw •  Pirate's hook •  Blue partyhat •  Sagacious spectacles •  Top hat •  Monocle
Ad blocker interference detected!
Wikia is a free-to-use site that makes money from advertising. We have a modified experience for viewers using ad blockers

Wikia is not accessible if you've made further modifications. Remove the custom ad blocker rule(s) and the page will load as expected.