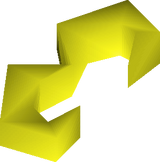 Hazeel's mark is a quest item from the quest Hazeel Cult. The item is only obtained when you choose Hazeel's side. It does not give any stat bonuses and simply used in the quest only. If lost, players can get it again by talking to Clivet.
Bonuses
Hover over image for type
 Attack bonus
+0
+0
+0
+0
+0
 Defence bonus
+0
+0
+0
+0
+0
Other bonuses
Slot

list

+0
0
0%
+0
Ad blocker interference detected!
Wikia is a free-to-use site that makes money from advertising. We have a modified experience for viewers using ad blockers

Wikia is not accessible if you've made further modifications. Remove the custom ad blocker rule(s) and the page will load as expected.