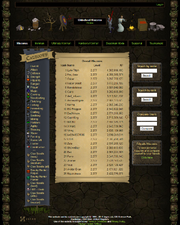 The HiScores are a feature of the Old School RuneScape website which ranks players by their experience in skills. Unlike the RuneScape HiScores, there are no requirements to be shown on the HiScores other than having logged in since the last inactivity sweep.
The board can also be separated into the different game modes, this includes the standard HiScores to the Ironman mode, Ultimate Ironman mode, Deadman mode and Seasonal Deadman Mode HiScores.
The Old School RuneScape HiScores can be found on the official website here.
Ad blocker interference detected!
Wikia is a free-to-use site that makes money from advertising. We have a modified experience for viewers using ad blockers

Wikia is not accessible if you've made further modifications. Remove the custom ad blocker rule(s) and the page will load as expected.