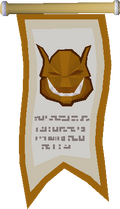 The Hobgoblin Champion is fought when a player presents a Hobgoblin champion scroll to Larxus in the Champions' Guild.
You cannot use melee attacks to damage this Champion.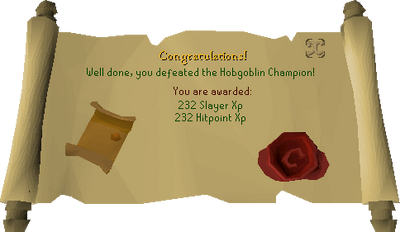 232 experience
232 experience
A banner hung under the Champions' Guild to proclaim victory over the Hobgoblin Champion.
Lower Champions

Imp • Goblin • Skeleton • Zombie • Giant • Hobgoblin • Ghoul • Earth Warrior • Jogre • Lesser Demon

Champions of Champions

Scrolls

 Imp •  Goblin •  Skeleton •  Zombie •  Giant •  Hobgoblin •  Ghoul •  Earth warrior •  Jogre •  Lesser demon
Ad blocker interference detected!
Wikia is a free-to-use site that makes money from advertising. We have a modified experience for viewers using ad blockers

Wikia is not accessible if you've made further modifications. Remove the custom ad blocker rule(s) and the page will load as expected.