The Ice Queen is a quest NPC fought during the Heroes' Quest. She can be found in the caverns beneath White Wolf Mountain.
She only drops the ice gloves, this is a quest item used not only in the Heroes' Quest, but also several other quests, notably Recipe for Disaster (Flambeed) (also optional here), and optionally in Desert Treasure (Fareed). It's possible to obtain ice gloves without having started the quest.
How to get to her
Edit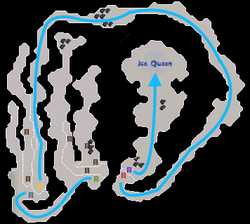 Find the northernmost entrance to the mountain from either Catherby, Taverley or take the gnome glider there and run north. Mine the rubble out of the way (requires 50 Mining and a pickaxe), and take the southern ladder. Follow the southern path in the caves until you see a reachable ladder. Climb up that one, and you will appear back on the surface. Then, take the eastern ladder. Follow the upcoming path (littered with ice giants and ice spiders) until you see another ladder. Take that ladder, and from the surface, the ladder next to it. Follow this final path to the Ice Queen's chamber room.
Warning for lower leveled players: her lair is a multi-combat zone and she is surrounded by level 57 ice warriors who will attack you. 
Fighting her
Edit
She has a weakness towards fire spells so it is recommended you use these if you have a decent magic level.
She is not immune to poison - so this can be used as a way to drain her health if you are otherwise struggling to damage her - see below for a hiding spot to heal and wait for poison to do damage.
There are areas of her cave where she and her minions cannot walk, limited by their patrol range - these areas (behind clumped icicles pointing up from the ground) can be very useful to take a break to eat some food, and can even be used to safespot the queen if used correctly.
An example of this is shown in the images below - to the eastern side there is a clump of icicles, behind which the ice queen and warriors cannot reach. Use this spot to heal up, and also it can be used to range or mage her for the safety of this spot! You may have to 'hit-and-run' to lure her closer to the spot - firing at her then running closer to the spot until she is within firing range of it - from which you may chip away at her to your heart's content.
| | Item | Quantity | Rarity | GE market price |
| --- | --- | --- | --- | --- |
| | Ice gloves | 1 | Always | Not sold |
Another Cook's quest

NPCs

Cook • Franizzard Van Lumbcook • Mysterious Old Man • Evil Bob• Blurberry • Culinaromancer

Lumbridge Secret Council

x35pxMountain Dwarf • Osman • Gypsy Aris • General Wartface • General Bentnoze • Pirate Pete • Lumbridge Guide • Evil Dave • x35pxSkrach Uglogwee • Sir Amik Varze • Awowogei • Duke Horacio

Items

 Dirty blast

Locations

Music

Freeing the Goblin generals

NPCs
Items

 Dyed orange •  Soggy bread • File:Spicy maggots.png Spicy maggots •  Slop of compromise

Locations

Music

Freeing Evil Dave

NPCs
Items

 Empty spice shaker •  Brown spice •  Orange spice •  Red spice •  Yellow spice •  Spicy stew

Locations

Music

Freeing the Lumbridge Guide

NPCs
Items

 Enchanted egg •  Enchanted flour •  Enchanted milk •  Raw guide cake •  Cake of guidance

Locations

Music

Freeing Pirate Pete

Characters

| | |
| --- | --- |
| NPCs | Pirate Pete • Mogre Guard • Murphy • Nung |
| Monsters | |

Items

Crab parts

 Fresh crab claw •  Broken crab claw •  Crab claw •  Fresh crab shell •  Broken crab shell •  Crab helmet

Fishcakes & ingredients

 Breadcrumbs •  Crab meat •  Ground cod •  Ground crab meat •  Ground kelp •  Kelp •  Raw fishcake •  Cooked fishcake •  Burnt fishcake

Locations

Music

Freeing Skrach Uglogwee

Characters

| | |
| --- | --- |
| NPCs | x35pxSkrach Uglogwee • Rantz • Bugs • Fycie |
| Monsters | |

Items

File:Balloon toad (grey).png Grey balloon toad •  Balloon toad •  Raw jubbly •  Cooked jubbly •  Burnt jubbly

Locations

Music

Freeing Sir Amik Varze

Characters
Items

 Book on chickens •  Pot of cornflour •  Vanilla pod •  Cinnamon •  Evil chicken's egg •  Cornflour mixture •  Milky mixture •  Dragon token •  Brulee (vanilla) •  Brulee (egg) •  Brulee (raw) •  Brulee supreme

Locations

Music

Freeing King Awowogei

Characters
Items

 Red banana •  Sliced red banana •  Tchiki monkey nuts •  Tchiki nut paste •  Snake corpse •  Raw stuffed snake •  Odd stuffed snake •  Stuffed snake •  Snake over-cooked

Locations

Music

Rewards

 Antique lamp

Related
Ad blocker interference detected!
Wikia is a free-to-use site that makes money from advertising. We have a modified experience for viewers using ad blockers

Wikia is not accessible if you've made further modifications. Remove the custom ad blocker rule(s) and the page will load as expected.