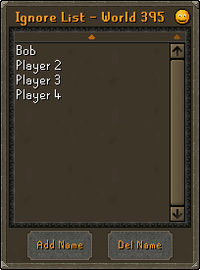 The ignore list is used to block messages from certain players. A player "ignoring" a specific person cannot hear that person in public or private chat. However, unlike turning Private Chat "off", the player doing the ignoring does not appear offline to the person being ignored.
Control panel

| | |
| --- | --- |
| Top |  Combat Options •  Stats •  Quest List •  Achievement diaries •  Minigame Group Finder •  Kourend Favour •  Inventory •  Worn equipment (Equipment Stats) (Items Kept on Death) (Guide Prices) •  Prayer screen •  Spellbook |
| Bottom |  Clan Chat •  Friends List •  Ignore List •  Logout (World switching) •  Options •  Emotes •  Music |

Minimap

Compass • Hitpoints • Quick prayers • Run energy • World map

Other

Chat Interface • Choose Option • Game controls • Main Menu • Trading interface
Ad blocker interference detected!
Wikia is a free-to-use site that makes money from advertising. We have a modified experience for viewers using ad blockers

Wikia is not accessible if you've made further modifications. Remove the custom ad blocker rule(s) and the page will load as expected.