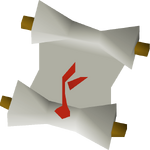 Iorwerth's message is an item used in Regicide. After killing King Tyras, Lord Iorwerth gives the player this mystically sealed message to give to King Lathas. Before the player can deliver it, they are stopped by Arianwyn, who uses his own magic to open the letter and reveal Lathas's true intentions, destroying Camelot, to the player.
Transcript
Edit
Your Majesty King Lathas
Your man did well. The path is now open for the dark lord to enter this realm. You will yet live to see Camelot crushed under foot.
Warmaster Iorwerth
Ad blocker interference detected!
Wikia is a free-to-use site that makes money from advertising. We have a modified experience for viewers using ad blockers

Wikia is not accessible if you've made further modifications. Remove the custom ad blocker rule(s) and the page will load as expected.