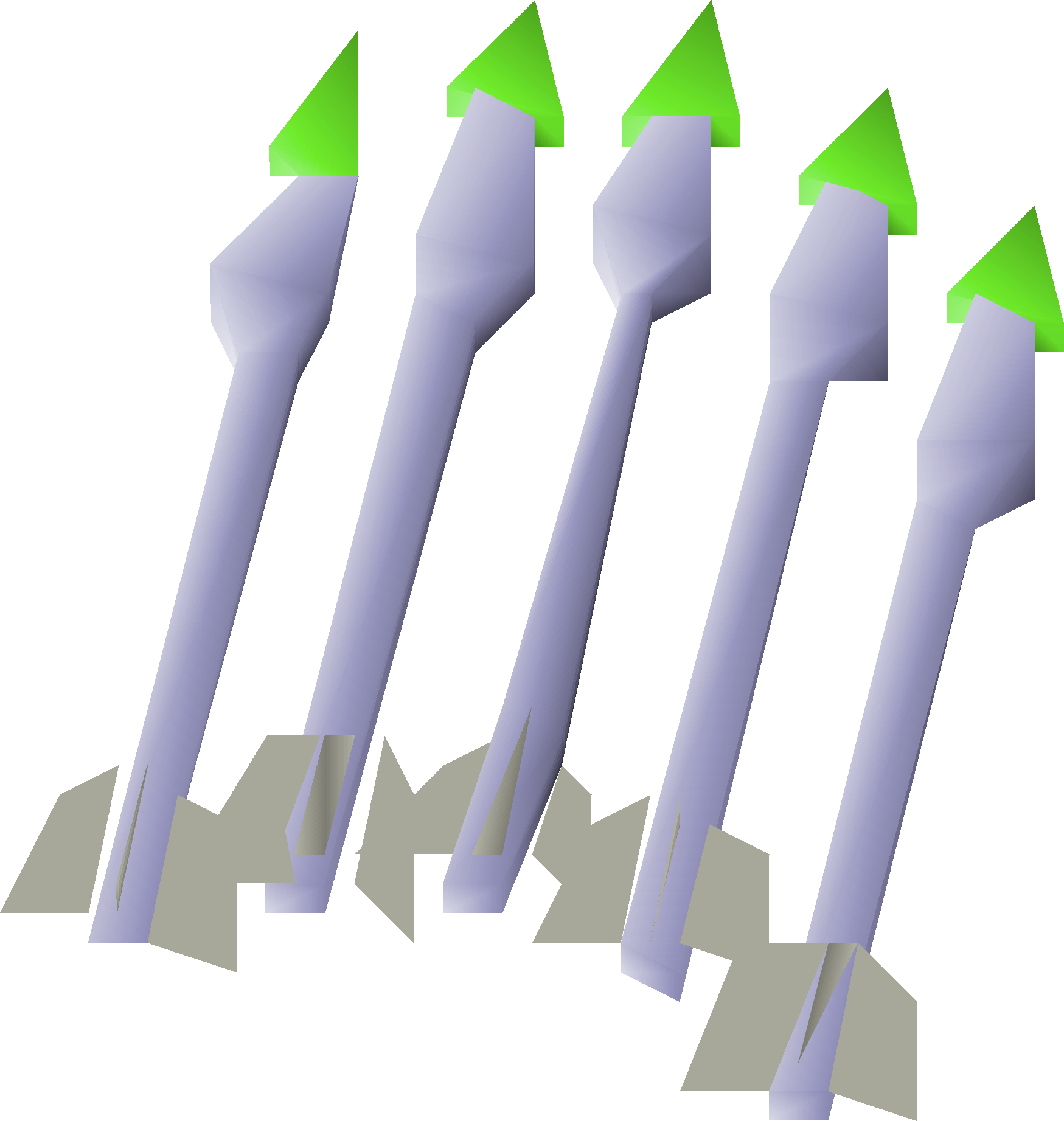 Enchanted jade bolts are blurite bolts tipped with enchanted jade. Jade bolts can be enchanted into enchanted jade bolts through the spell Enchant Crossbow Bolt (Jade) by a player with level 14 Magic. The spell enchants 10 jade bolts at a time. These bolts are untradeable.
Enchanted jade bolts are enchanted with the Earth's Fury enchantment, which gives the bolts a chance of knocking their target to the ground, although agile opponents may resist this.
One could conceivably use the Jade bolts (e) special ability for tactical purposes in Castle Wars as a stun to limit the flag carrier's mobility, serving as a low-level ranged alternative to Ice Barrage or the Dragon spear.
If the player has completed the Hard Kandarin Diary, there is a 10% increase of the likelihood that the special effect of an enchanted bolt will occur. This effect is always active regardless if the headgear is equipped.
Bonuses
Hover over image for type

The Earth's Fury ability from enchanted Jade bolts after enchanting Jade bolts
 Attack bonus
+0
+0
+0
+0
+0
 Defence bonus
+0
+0
+0
+0
+0
Other bonuses
Slot

list

+0
+30
0%
+0
Metal bolts

 Bronze (unf) •  Blurite (unf) •  Silver (unf) •  Iron (unf) •  Steel (unf) •  Mithril (unf) •  Adamant (unf) •  Runite (unf)

Bolt tips

 Opal •  Jade •  Pearl •  Topaz •  Sapphire •  Emerald •  Ruby •  Diamond •  Amethyst •  Dragonstone •  Onyx

Gem-tipped bolts

 Opal (e) •  Jade (e) •  Pearl (e) •  Topaz (e) •  Sapphire (e) •  Emerald (e) •  Ruby (e) •  Diamond (e) •  Dragonstone (e) •  Onyx (e)

Other bolts

 Bone •  Barbed •  Mith grapple (unf) (tip) •  Bolt rack •  Kebbit •  Long kebbit •  Broad (unf) •  Amethyst
Ad blocker interference detected!
Wikia is a free-to-use site that makes money from advertising. We have a modified experience for viewers using ad blockers

Wikia is not accessible if you've made further modifications. Remove the custom ad blocker rule(s) and the page will load as expected.