Jangerberry seed
Release date
11 July 2005 (Update)
Members only?
Yes
Quest item?
No
Tradeable?
Yes
Equipable?
No
Stackable?
Yes
High Alch
36 coins
Low Alch
24 coins
Destroy
Drop
Store price
Not sold
Exchange price

2

coins (info)
Buy limit
Unknown
Weight
0 kg
Examine
A jangerberry bush seed - plant in a bush patch.
[view]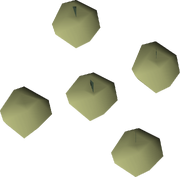 Jangerberry seeds are seeds which can be planted and grown into a Jangerberry bush at level 48 Farming. The seed(s) must be planted in bush patches, and will produce Jangerberries when fully grown. It may be protected for 6 watermelons.
They are dropped by Ogres and other monsters such as Moss giants, Ice Warriors, Ice trolls, Hobgoblins, Earth warriors, Ankous, and Hill giants and can be pickpocketed from a Master Farmer and Martin the Master Gardener.
Farming info
Allotment

 Potato •  Onion •  Cabbage •  Tomato •  Sweetcorn •  Strawberry •  Watermelon

Flower

 Marigold •  Rosemary •  Nasturtium •  Woad •  Limpwurt

Herb

 Guam •  Marrentill •  Tarromin •  Harralander •  Gout tuber •  Ranarr •  Toadflax •  Irit •  Avantoe •  Kwuarm •  Snapdragon •  Cadantine •  Lantadyme •  Dwarf weed •  Torstol

Hop

 Barley •  Hammerstone •  Asgarnian •  Jute •  Yanillian •  Krandorian •  Wildblood

Bush

 Redberry •  Cadavaberry •  Dwellberry •  Jangerberry •  Whiteberry •  Poison ivy

Tree
Fruit tree

 Apple tree •  Banana tree •  Orange tree •  Curry tree •  Pineapple •  Papaya tree •  Palm tree

Special seeds

 Seaweed •  Teak •  Grape •  Mushroom •  Mahogany •  Cactus •  Belladonna •  Calquat •  Spirit

Other seeds

 Blindweed •  Crystal (small) •  Grass •  Hardy gout tuber •  Hardy gout tubers •  Kelda •  Pine tree •  White pearl

Tithe Farm seeds
Chambers of Xeric
Garden of Tranquillity

 Delphinium •  Pink orchid •  Pink rose •  Red rose •  Snowdrop •  Vine •  White rose •  Yellow orchid