Javelin shaft
Release date
6 May 2016 (Update)
Members only?
Yes
Quest item?
No
Tradeable?
Yes
Equipable?
No
Stackable?
Yes
High Alch
0 coins
Low Alch
0 coins
Destroy
Drop
Store price
Not sold
Exchange price

1

coins (info)
Buy limit
7,000
Weight
0 kg
Examine
It's not very strong, but it could be pointy if you put a pointy tip on it.
[view]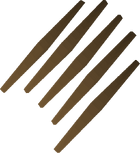 Javelin shafts are used in the making of javelins through the Fletching skill. 15 javelin shafts can be cut from regular logs at Fletching level 3 by using a knife on them, granting 5 Fletching experience.
Attaching javelin heads to javelin shafts will turn them into javelins. Javelin shafts are used to create all of the javelins; the only changing component is the type of javelin head (e.g. bronze, rune, etc.).
Strings

Logs

 Regular •  Oak •  Willow •  Maple •  Achey •  Yew • Magic •  Redwood

Unstrung bows

| | |
| --- | --- |
| Unstrong shortbows | |
| Unstrung longbows | |

Wooden shields

Arrows

 Arrow shaft •  Feather •  Headless arrow •  Bronze arrowtips •  Iron arrowtips •  Steel arrowtips •  Mithril arrowtips •  Broad arrowheads •  Adamant arrowtips •  Rune arrowtips •  Amethyst arrowtips •  Dragon arrowtips

Javelins

 Javelin shaft •  Bronze javelin heads •  Iron javelin heads •  Steel javelin heads •  Mithril javelin heads •  Adamant javelin heads •  Rune javelin heads •  Amethyst javelin heads •  Dragon javelin heads

Ballistae

 Ballista limbs •  Ballista spring •  Light frame •  Heavy frame •  Monkey tail •  Incomplete light ballista •  Incomplete heavy ballista •  Unstrung light ballista •  Unstrung heavy ballista

Ogre bows

 Ogre arrow shaft •  Flighted ogre arrow •  Wolfbone arrowtips •  Unstrung comp bow

Crossbow stock

 Wooden •  Oak •  Willow •  Teak •  Maple •  Mahogany •  Yew •  Magic

Crossbow limbs

 Bronze •  Blurite •  Iron •  Steel •  Mithril •  Adamantite •  Runite •  Dragon

Unstrung crossbows

 Bronze •  Blurite •  Iron •  Steel •  Mithril •  Adamant •  Runite •  Dragon

Unfinished bolts

 Bronze •  Blurite •  Silver •  Iron •  Steel •  Mithril •  Broad •  Adamant •  Runite •  Dragon

Bolt tips

 Opal •  Jade •  Pearl •  Red topaz •  Sapphire •  Emerald •  Ruby •  Diamond •  Amethyst •  Dragonstone •  Onyx

Dart tips