This article is about the bone for burying. For the quest item, see
Jogre bone
.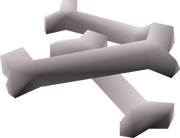 Jogre bones are associated with the Prayer skill. They are dropped by jogres. Jogre bones give 15 Prayer experience when buried (the same as big bones).
Jogre bones can be lit with a tinderbox at level 30 Firemaking to make burnt jogre bones, granting 90 Firemaking experience. Burnt bones are used with karambwanji paste during the Tai Bwo Wannai Trio quest to make marinated j' bones. You can still bury the burnt jogre bones for 16 Prayer experience, so it is recommended to burn, then bury. With two incense burners lit, burnt jogre bones will grant 56 Prayer experience at a gilded altar.
If a player selects "light" without level 30 Firemaking the player will receive the message "You need a firemaking level of 30 to burn Jorge bones. You could find some other way of burning them.", hinting that you need to use a furnace to make burnt jogre bones.
Players can cast the Superheat Item spell on jogre bones for 53 Magic, and 25 Cooking experience.
Dropping monsters
Edit
| Monster | Combat level | Quantity | Rarity |
| --- | --- | --- | --- |
| Jogre | 53 | 1 | |
Standard bones
Draconic bones

 Baby dragon •  Dragon •  Wyvern •  Lava dragon •  Superior

Monkey bones

 Karamjan •  Small zombie •  Big zombie •  Gorilla •  Bearded gorilla •  Small ninja •  Medium ninja •  Skeleton gorilla

Ogre bones

 Jogre (Burnt) (Pasty) (Marinated) •  Zogre •  Fayrg •  Raurg •  Ourg

Enriched bones

Special bones

 Curved •  Long •  Chewed •  Mangled •  Shaikahan •  Sheep (1) (2) (3) (4)
Ad blocker interference detected!
Wikia is a free-to-use site that makes money from advertising. We have a modified experience for viewers using ad blockers

Wikia is not accessible if you've made further modifications. Remove the custom ad blocker rule(s) and the page will load as expected.