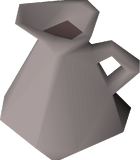 A jug of vinegar can be bought from Fortunato in Draynor Village for 1 coin after starting the Rag and Bone Man quest. When decanted into an empty pot it becomes a pot of vinegar and an empty jug. Bones from various creatures around RuneScape can then be added to the pot (one bone per pot) and boiled over the fire outside the Odd Old Man's house. This will clean the bones and they can then be given to the old man to complete the quest.
A total of 35 jugs of vinegar are needed for Rag and Bone Man (8) as well as Rag and Bone Man II (27).
Ad blocker interference detected!
Wikia is a free-to-use site that makes money from advertising. We have a modified experience for viewers using ad blockers

Wikia is not accessible if you've made further modifications. Remove the custom ad blocker rule(s) and the page will load as expected.