Start point
Speak to Trufitus near Tai Bwo Wannai
Official difficulty
Novice
Description
Trufitus Shakaya of the Tai Bwo Wannai Village requires that you collect five special jungle herbs for a potion so he can commune with his Gods.
Length
Short-Medium (Requires lots of walking)
Requirements

Items recommended:

1-2 Antipoisons (To prevent the poison damage caused by tribesmen)

Items required
None
Enemies to defeat
None
Walkthrough
Edit
Getting Started
Edit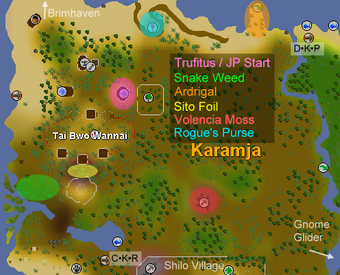 Gathering Herbs
Edit
Snake Weed
Edit
Go Southwest of Tai Bwo Wannai until green and yellow vines labeled 'marshy jungle vines' are seen.
Search the vines and CLEAN THE HERB.
Note: Take three if you intend to do Legends' Quest and Zogre Flesh Eaters
Talk to Trufitus. (1)
Head Northeast from Trufitus. There will be Harpie Bug Swarms and palm trees. (CIRCLED ORANGE)
Search the trees and clean the herb. (Only one tree is searchable and it is different for each player!)
Note: Take two if you intend to do Legends' Quest
Talk to Trufitus. (1)
Sito Foil
Edit
A little south of the west entrance of the Tai Bwo Wannai Village is a patch of scorched earth.
Search the scorched earth for the herb and clean it.
Talk to Trufitus. (1)
Volencia Moss
Edit
Go Southeast from Trufitus until a mine is seen.
Search the rocks for the herb and clean it.
Note: Take two if you intend to do Fairytale I - Growing Pains (Possible required item)
Talk to Trufitus. (1)
Rogue's Purse
Edit
Note: The Rogue's purse must be obtained in the following method and cannot be used from anywhere else.
Go back by the Harpie Bug Swarms and head West from there until a cave is seen.
In the cave, look for green spots on the wall labeled 'Fungus covered Cavern wall' and search them and clean the herb.
Note: Take two if you intend to do Zogre Flesh Eaters
Talk to Trufitus. (1)
Quest complete!
Ad blocker interference detected!
Wikia is a free-to-use site that makes money from advertising. We have a modified experience for viewers using ad blockers

Wikia is not accessible if you've made further modifications. Remove the custom ad blocker rule(s) and the page will load as expected.