A Jungle eagle is an NPC used as a transportation medium between Eagles' Peak and the Feldip Hunter area. The Eagle transport system can only be used after the completion of the Eagles' Peak quest. In order to travel using this bird, a rope must be used on it, to lasso it around its neck.
It is located past the stone door, inside the Eagle Peak dungeon and also in the Feldip Hunter area. They can be used to travel between each other.
To access this eagle's nest from the outside, the player must use a teasing stick, thatching spar, or garden cane on the vine in order to be able to climb it once it grows tall enough.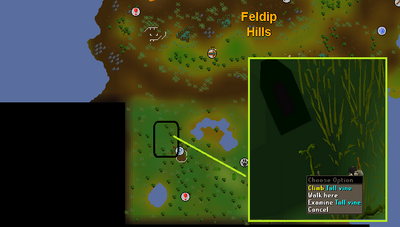 Ad blocker interference detected!
Wikia is a free-to-use site that makes money from advertising. We have a modified experience for viewers using ad blockers

Wikia is not accessible if you've made further modifications. Remove the custom ad blocker rule(s) and the page will load as expected.