Kalphite soldiers can be found in the Kalphite Lair southwest of Shantay Pass and in the Kalphite Cave east of the Shantay Pass, although the latter requires having a slayer assignment to kill. They guard the entrance to the lair of the Kalphite Queen. These are highly dangerous because of their ability to poison without dealing melee damage, often dealing 4 damage per round, and they inhabit a multi-combat area.
A player can choose to hunt these for Slayer when given the task to kill Kalphites. When given this task, a player can choose to kill any of the Kalphite family (Workers, Soldiers, Guardians or the Queen). Killing Kalphite Soldiers will grant 90 Slayer XP per kill. Using a Dwarf Multicannon in their chamber yields one of the best XP rates next to Lighthouse dagannoths, and therefore many players use cannons to train here.
Locations
Edit
Safe spot
Edit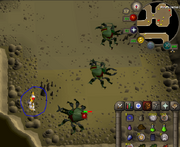 Armour/Weapons
Edit
Rare drop table
In addition to the drops above, this monster also has access to the rare drop table.
Ad blocker interference detected!
Wikia is a free-to-use site that makes money from advertising. We have a modified experience for viewers using ad blockers

Wikia is not accessible if you've made further modifications. Remove the custom ad blocker rule(s) and the page will load as expected.