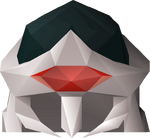 The Kandarin headgear 2 is a reward from completing the medium Kandarin Diary tasks given to you by The 'Wedge' outside of Camelot castle and can be retrieved from him for free if lost. Its stats are identical to that of a Steel med helm. The headgear does not need to be worn in order to gain more marks or exchange flax.
Bonuses
Hover over image for type

A player wearing the medium diary set
 Attack bonus
+0
+0
+0
-3
-1
 Defence bonus
+7
+8
+6
-1
+7
Other bonuses
Slot

list

+0
0
0%
+0
From Kandarin headgear 1
Edit
Kandarin headgear 2 only
Edit
Ad blocker interference detected!
Wikia is a free-to-use site that makes money from advertising. We have a modified experience for viewers using ad blockers

Wikia is not accessible if you've made further modifications. Remove the custom ad blocker rule(s) and the page will load as expected.