The Kharazi Jungle is an area south of Shilo Village on Karamja. This is where most of the Legends Quest takes place, and it is necessary to start the quest in order to enter the jungle (you only have to talk to Radimus Erkle and receive Radimus' Notes). A machete and a woodcutting axe are required to hack through the dense jungle blocking the path. Radimus notes is also required to navigate it if players have not completed Legends Quest . The jungle occasionally serves as the location for Treasure Trail co-ordinates.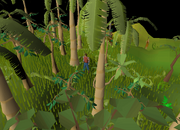 The easiest way to enter the jungle coming from Shilo Village is to stand north of the bush just south of the village entrance. All it requires is to cut 2 bushes in front to enter the jungle. Players may also use two vines on either side of the jungle that require 79 Agility to pass.
The jungle is home to the Kharazi tribe and several species of wolves, birds, and other animals, most of which are aggressive. To the north-west is the entrance to the Viyeldi caves which has a role in the Legends Quest. Along the southern beach are several vanilla plants, which players will find a use for during the Sir Amik Varze subquest of Recipe for Disaster. Roughly in the centre of the jungle is a pond with special water and near it is a location where special Yommie trees may be planted. Along the jungle there are several black totem poles which players will have to get rid of during Legends Quest.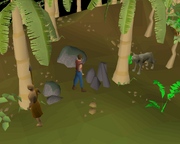 This location is also visited again for the deathwing, oomlie wrap, and palm leaf tasks from the Karamja Diary. A palm leaf can be retrieved by shaking the leafy palm trees to the east and west of the small pool in the centre of the jungle. When shaken, a leaf will appear on the ground.
Players who wish to train Woodcutting and Firemaking simultaneously may find this area helpful. There are several teak trees and some mahogany trees scattered across the jungle, with plenty of open space to make fires. With a tinderbox in the inventory, players can chop the teak trees and burn them without leaving the jungle. However, the creatures there are aggressive, so it would be wise for players to bring some armour and perhaps a ring of life.
Another Cook's quest

NPCs

Cook • Franizzard Van Lumbcook • Mysterious Old Man • Evil Bob• Blurberry • Culinaromancer

Lumbridge Secret Council

x35pxMountain Dwarf • Osman • Gypsy Aris • General Wartface • General Bentnoze • Pirate Pete • Lumbridge Guide • Evil Dave • x35pxSkrach Uglogwee • Sir Amik Varze • Awowogei • Duke Horacio

Items

 Dirty blast

Locations

Music

Freeing the Goblin generals

NPCs
Items

 Dyed orange •  Soggy bread •  Spicy maggots •  Slop of compromise

Locations

Music

Freeing Evil Dave

NPCs
Items

 Empty spice shaker •  Brown spice •  Orange spice •  Red spice •  Yellow spice •  Spicy stew

Locations

Music

Freeing the Lumbridge Guide

NPCs
Items

 Enchanted egg •  Enchanted flour •  Enchanted milk •  Raw guide cake •  Cake of guidance

Locations

Music

Freeing Pirate Pete

Characters

| | |
| --- | --- |
| NPCs | Pirate Pete • Mogre Guard • Murphy • Nung |
| Monsters | |

Items

Crab parts

 Fresh crab claw •  Broken crab claw •  Crab claw •  Fresh crab shell •  Broken crab shell •  Crab helmet

Fishcakes & ingredients

 Breadcrumbs •  Crab meat •  Ground cod •  Ground crab meat •  Ground kelp •  Kelp •  Raw fishcake •  Cooked fishcake •  Burnt fishcake

Locations

Music

Freeing Skrach Uglogwee

Characters

| | |
| --- | --- |
| NPCs | x35pxSkrach Uglogwee • Rantz • Bugs • Fycie |
| Monsters | |

Items

 Balloon toad •  Grey balloon toad •  Raw jubbly •  Cooked jubbly •  Burnt jubbly

Locations

Music

Freeing Sir Amik Varze

Characters
Items

 Book on chickens •  Pot of cornflour •  Vanilla pod •  Cinnamon •  Evil chicken's egg •  Cornflour mixture •  Milky mixture •  Dragon token •  Brulee (vanilla) •  Brulee (egg) •  Brulee (raw) •  Brulee supreme

Locations

Evil Chicken's Lair • Kharazi Jungle

Music

Freeing King Awowogei

Characters
Items

 Red banana •  Sliced red banana •  Tchiki monkey nuts •  Tchiki nut paste •  Snake corpse •  Raw stuffed snake •  Odd stuffed snake •  Stuffed snake •  Snake over-cooked

Locations

Music

Rewards

 Antique lamp

Related
Ad blocker interference detected!
Wikia is a free-to-use site that makes money from advertising. We have a modified experience for viewers using ad blockers

Wikia is not accessible if you've made further modifications. Remove the custom ad blocker rule(s) and the page will load as expected.