Kharedst's memoirs is a wieldable book that is used as a teleport item. It is a quest reward for the completion of the Client of Kourend quest. Players can reclaim the book, if lost, by speaking to Veos on the Piscarilius docks.
The book is a gift from the last king of the Great Kourend, King Kharedst IV, who ruled the Kingdom for forty years from the 135th to 139th decade, to his daughter Rose. The memoirs inside contain the outings Rose experienced with her father.
Bonuses
Hover over image for type
 Attack bonus
+0
+0
+0
+0
+0
 Defence bonus
+0
+0
+0
+0
+0
Other bonuses
Slot

list

+0
0
0%
+1
Teleportation
Edit
Upon obtaining it after the completion of Client of Kourend, it has no use at all. To be able to use it, torn pages obtained from completing certain quests in Great Kourend must be used on it. This allows the player to teleport to one of the five Houses of Great Kourend by using the Reminisce option on the memoir. Each teleport uses up one charge.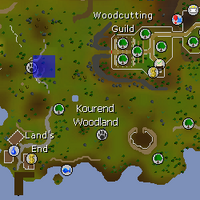 Each torn page added onto the memoir will give it eight teleport charges, as well as increase the maximum number of charges available. Once at least one teleport charge is depleted, players can add more charges by inspecting the Old Memorial north of Land's End, or west of the Woodcutting Guild. To recharge the memoirs, players must have at least 1 law, body, mind, and soul rune, costing 333 per charge. 10 Magic experience is granted for each charge added to the memoirs.
Currently, the memoir can only be used to teleport to the Hosidius House after completion of The Depths of Despair and the Piscarilius House after completion of The Queen of Thieves. Because each teleport results in the player arriving near some flowers called "lancalliums", it is possible to determine the future teleport locations for the other Houses by finding the lancallium's locations within the three Houses.
The memoirs have five missing pages, of which only the first two are currently obtainable. There are three additional pages, each for the other three houses of Kourend. As they are currently unobtainable (likely planned for future Kourend quests), it is not possible to add these pages to the memoir.
There is a sixth secret page that can be found by using a knife on the memoir. Adding the secret page to the memoir does not increase the number of charges.
Transcript
Edit
A Gift for Rose.
If it pleases you, my dear child, would you record our future outings? When I'm old and my mind is fading I'd like to reminisce all the times we've spent together around this fine Kingdom of mine. Heed the lessons of our time together and reflect, for someday you will be Queen over this great land.
'Lunch by the Lancalliums'
...
Today Father and I had lunch by the River Hos, we sat on our favorite bench and watched as the farmers tended to their curious Bologano fruits. We were joined by a young farmer called Gric, he gave me a basket of strawberries and they're the best I've ever tasted! I recall he was writing a book and he and father discussed the mysteries of ageing for quite some time before he took leave and returned to his farm.
The Lancalliums we'd planted previously were looking a little wilted but Father informed me that Gric would see to them and make sure that they wouldn't die. I asked if Gric could stop anything from dying, Father informed me that in the past a great wizard once beat death and this eventually lead to the residents of Arceuus being immortal, but they had to abandon most of what made them Human to do so. In the end, is it worth it? Forever is a long time and the mind is more fragile than you may realise.
'The Fisher's Flute'
This happened a few weeks back, I've finally decided to write it down, perhaps it'll help.
A favorite locale of ours is the Fisher's Market at the crossroads in Piscarilius, the merchants are lovely and the music is always enjoyable! The smell may not be for everyone, but after a while you'll forget about it. Being royalty, it's good practise to dress down and be somewhat anonymous as Father believes it's a good lesson in understanding the residents, for both the good traits and the bad. Today was a bad day.
We were stood on the corner, listening to Rey play his golden flute (He always plays my requests and gives us fish when we leave, I'll miss his music.) and just as he had finished playing 'Mist on the River Hos' it happened. It was over quickly, a man stepped from the crowds and attempted to take the golden flute, Father instantly stepped between the two of them when suddenly a woman stepped forward with a knife. Blood was drawn, civilians screamed and the criminals ran.
Father only sustained minor injury but The Fisher's Market is closed now and I believe Rey blames himself for all of it. I'm sure there is a lesson to be learnt from all of this but I'm currently yet to understand it.

Hearsay and History
...
This entry seems to be missing.
Jewellery of Jubilation
...
This entry seems to be missing.
A Dark Disposition
...
This entry seems to be missing.
Tread Carefully
If you're reading this, things haven't gone to plan and YOU should be worried. The King has been killed and I am 'Unfit for rule'... I have enough sanity left to know it won't be long until they come for me too.
By all means, young stranger, attempt to rebuild this memoir, but I'm afraid you may not like the ending, I for one am not a fan. You may think you're ahead of the game, but the pieces have been in motion for decades and you are just another pawn, as was I.
Perhaps we'll meet soon.
R,
 Kharedst's memoirs

Torn pages

 Lunch by the lancalliums •  The fisher's flute •  Hearsay and history •  Jewellery of jubilation •  A dark disposition •  Secret page
Characters

Veos • Leenz • Horace • Jennifer • Munty • Regath • Veos' Client

Items

Rewards

 Antique lamp •  Kharedst's memoirs