Knights of Avarrocka (modern-day Varrock) were a small group of soldiers sent to slay Enakhra and destroy her temple.[1] However, they failed, being quickly slain. One of their members, Pentyn, was kept alive in order to fuel a spell trapping Akthanakos, being tortured and starved for thousands of years.[2]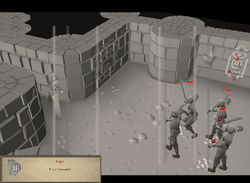 References
Edit
↑ Knight, "Enakhra's Lament", Old School RuneScape. "All right, men, destroy that evil sorceress... and her temple with her!"
↑ Pentyn, "Enakhra's Lament", Old School RuneScape. "Besides, I am already wounded, and have been so for many years, thanks to this spell you cast on me. And hungry. So very, very hungry."
Characters

Lazim • Knight • Pentyn • Boneguard • Akthanakos • Enakhra

Items

 Stone head •  Stone head (Cavity) •  Camel mould (p)

Rewards

Music

Related
Ad blocker interference detected!
Wikia is a free-to-use site that makes money from advertising. We have a modified experience for viewers using ad blockers

Wikia is not accessible if you've made further modifications. Remove the custom ad blocker rule(s) and the page will load as expected.