The Kraken Cove is a dungeon located south-west of the Piscatoris Fishing Colony, housing waterfiends and cave kraken. All of the creatures can only be killed while on a slayer task.
Players may enter without a slayer assignment, but upon attacking any monster inside the dungeon, Lieve McCracken will stop them from doing so, claiming that they are not assigned to kill them.
West of the Kraken boss chamber is a small room with a rope leading to another floor. However, it is currently inaccessible to players.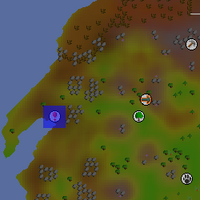 There are several ways to access the cove:
Ad blocker interference detected!
Wikia is a free-to-use site that makes money from advertising. We have a modified experience for viewers using ad blockers

Wikia is not accessible if you've made further modifications. Remove the custom ad blocker rule(s) and the page will load as expected.