Kree'arra is one of Armadyl's most trusted generals. He is among the most powerful of the surviving aviantese, and leader to the forces of Armadyl's Eyrie in the God Wars Dungeon.
In order to reach the encampment, players must first wield any crossbow along with a mithril grapple. A Ranged level of at least 70 is then required to navigate the chasm. To enter the boss room, players must have slain 40 followers of Armadyl, with aviansies and their spiritual variants being his only followers within the dungeon.
Kree'arra can be seen yelling several battle cries in his chamber. However, unlike the other generals, his taunts are non-verbal.
Bodyguards
Edit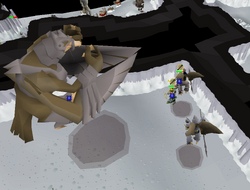 Ammunition and runes
Edit
Rare drop table
In addition to the drops above, this monster has a 8/127 chance to access the standard
rare drop table
.
↑ 2.0 2.1 2.2 The drop rate is increased by an unknown amount when wearing a Ring of wealth.
At Old School RuneScapes first birthday event, players could speak to Kree'arra, resulting in the following dialogue:

Player: Well.... Kree'Arra. I.. I..
Kree'arra: You what? Still confused about if I'm a he or a she? Still one of those guys who says 'Oh let's go kill Kree'Arra I bet SHE'LL drop us something good. I'm male alright.... geeze.
Player: No no n... wait, really?
Player: Damn. Anyway, no I wasn't expecting to see you and the others.... here? I thought you were all sworn enemies?
Kree'arra: Yeah, well... we put aside our differences for the party since we're indebted to the development team for bringing us to life in the first place.
Kree'arra: Although, I'm getting very annoyed with Graardor over there who just keeps eating everything he can find.
Player: Well I hope you enjoy yourself and.... don't kill anyone?
Kree'Arra looks at you glaringly.
References
Edit
Bosses

| | |
| --- | --- |
| Armadyl | Kree'arra |

Items

| | |
| --- | --- |
| Godswords |  Armadyl (or) •  Bandos (or) •  Saradomin (or) •  Zamorak (or) |
| Armadyl armour | |
| Bandos armour |  Chestplate •  Tassets •  Boots |
| Weapons |  Saradomin sword (blessed) •  Zamorakian spear (hasta) •  Staff of the dead (toxic) •  Armadyl crossbow •  Steam battlestaff (or) |
| Pets |  Kree'arra •  General Graardor •  Commander Zilyana •  K'ril Tsutsaroth |
| Other | |

Music

Armageddon • Armadyl Alliance • Bandos Battalion • Strength of Saradomin • Zamorak Zoo

Related