Krystilia is a Slayer master found in Edgeville's jail north-east of the bank. When spoken to, she expresses her love for magic and the Wilderness, and claims the guards locked her in the cell for trouble-making.
Players can speak to her to change their respawn point to Edgeville for a one-time fee of 5,000,000 coins.
She is a Slayer master who assigns the player monsters found within the Wilderness. Only kills within the Wilderness count towards her tasks. Before being assigned a Wilderness task, she will warn you that she will assign any monster regardless of your combat level.
Assignments from Krystilia have a separate task completion counter to standard assignments. Players will have to complete five Slayer assignments to begin earning Slayer reward points. Although Wilderness Slayer tasks are counted separately, players cannot have a regular and Wilderness slayer task at the same time.
Completion of a task assigned by Krystilia will grant:
25 points per task
125 for every 10th
375 for every 50th
625 for every 100th
875 for every 250th
1,250 for every 1,000th
Useful teleports
Edit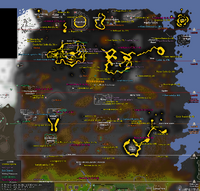 Assignments
Edit
Out of all possible tasks, only Spiritual creatures require a Slayer level. In addition, the locations will only list those found within the Wilderness.
Monsters assigned by Krystilia have a chance to drop mysterious emblems and slayer's enchantments, which can be used to upgrade the Slayer's staff to a Slayer's staff (e).
Monster
Amount
Combat Level
Slayer Exp
Location
Wilderness Level
Task weight
Ankou
40-130
86, 98
70
The Forgotten Cemetery, Revenant Caves
27-31, 34-36
6
Aviansie[1]
120-250
69-137
70-139
Wilderness God Wars Dungeon
26-29
7
Bandit
75-125
22, 34, 130
27, 37, 159
Bandit Camp
17-24
4
Bear[2]
15-100
21
25, 27
West of the Graveyard of Shadows, south of Western Ruins
18-22
6
Black demon[3]
102-149
172, 188
157
Edgeville Dungeon, Revenant Caves
5-6, 28-31
7
Black dragon[4]
8-60
227, 247
199.4
Lava Maze Dungeon, Revenant Caves
44-45; 35-38
7
Dark warrior
72-124
8, 145
17, 181.4
Dark Warriors' Fortress
12-16
4
Chaos druid
13, 129
20, 150
Edgeville Dungeon, Chaos Temple (elder chaos druids)
3-5, 11-12
Earth warrior
77-129
51
54
Edgeville Dungeon
7-10
6
Ent
36-60
101
107.5
Forests north and east of the Chaos Temple
9-14, 20-24
5
Fire giant
100-200
86
111
Deep Wilderness Dungeon
53
7
Greater demon
100-242
92, 104
87
Demonic Ruins, Lava Maze Dungeon, Revenant Caves
41-43, 45-48; 25-29
8
Green dragon
69-99
79, 88
75
West of Dark Warriors' Fortress, north of Graveyard of Shadows, south of Lava Maze, south-west of Bone Yard, Revenant Caves
12-14, 24-26, 35-38; 18-24
4
Hellhound[5]
76-200
122, 136
116
North-east of Deserted Keep, Revenant Caves
49-54; 18-20
7
Ice giant
106-156
53, 67
70, 100
Frozen Waste Plateau, Revenant Caves
46-55; 30-32
6
Ice warrior
100-150
57
59
Frozen Waste Plateau
44-55
7
Lava dragon
35-60
252
248
Lava Dragon Isle
36-42
3
Lesser demon
83-114
82, 94
79, 110
Muddy chest, King Black Dragon Lair cage, south of the Demonic Ruins, Revenant Caves
42-44; 24-26
?
Magic axe
77-125
42
45
Magic Axe Hut (Bring a lockpick!)
54-56
7
Mammoth
75-125
80
130
West of the Chaos Temple
7-14
6
Revenant
44-99
7-135
10-140
Revenant Caves
28-34
?
Rogue
75-120
15, 135
17, 125
Rogues' Castle
50-54
5
Scorpion[6]
15-100
14
17
West of Air Obelisk, Scorpion Pit, Lava Maze (King Scorpions)
5-9, 39-42, 53-54
6
Skeleton[7]
15-100
22, 25, 45
29, 17, 59
Southern Wilderness Mine, South-Western Wilderness Mine, Bone Yard, Edgeville Dungeon, Wilderness Agility Course
Varies
5
Spider[8]
15-100
27, 34, 64
2, 32, 35, 64
North-west of Lava Dragon Isle, south of Callisto, Eastern Ruins, Edgeville Dungeon, Lava Maze Dungeon (also by the King Black Dragon Lair lever)
Varies
6
Spiritual creatures[9]
102-200
120-123
75, 85, 106
Wilderness God Wars Dungeon
24-29
6
Wilderness demi-bosses
3-35
202
225
Chaos Fanatic: West of the Lava Maze
40-42
8
204
235
Crazy archaeologist: Western Ruins
22-24
225
260
Scorpia: Underneath the Scorpion Pit
52-54
Wilderness bosses
3-35
470
312
Callisto: South of the Demonic Ruins
42
8
464
388.8
Venenatis: East of the Bone Yard
26-30
454
312
Vet'ion: North of the Bone Yard
34-36
Turael •

Krystilia •

Mazchna(20) •

Vannaka(40) •

Chaeldar(70) •

Nieve(85) /

Steve(85) •

Duradel(100)