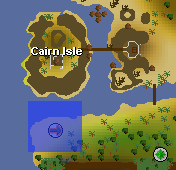 The Lady of the Waves is a small vessel docked south of Cairn Isle, a small island on the south-western coast of Karamja. It is owned by Captain Shanks, and plays a small role in the One Small Favour quest.
The Lady of the Waves will take players to either Port Sarim or Port Khazard, provided they have a ship ticket, which can be bought on site for a price which is randomised every time you talk to him and can be between 20 and 50 coins. Players should note that it is a one way trip and you cannot use the boat to get back to Cairn Isle.
Boarding the ship and leaving for Port Khazard is one of the medium tasks in the Karamja Diary.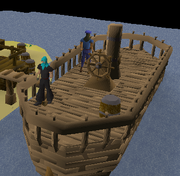 Ad blocker interference detected!
Wikia is a free-to-use site that makes money from advertising. We have a modified experience for viewers using ad blockers

Wikia is not accessible if you've made further modifications. Remove the custom ad blocker rule(s) and the page will load as expected.