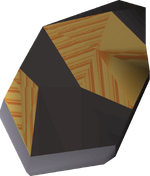 Lava scales are always dropped by lava dragons at the Lava Dragon Isle located in the Wilderness. They are also dropped uncommonly by brutal black dragons.
Lava scales themselves have no use, but when ground with a pestle and mortar players will obtain 3-6 lava scale shards, an ingredient in extended antifires.
Dropping monsters
Edit
Ad blocker interference detected!
Wikia is a free-to-use site that makes money from advertising. We have a modified experience for viewers using ad blockers

Wikia is not accessible if you've made further modifications. Remove the custom ad blocker rule(s) and the page will load as expected.