Lava scale shard
Release date
27 March 2014 (Update)
Members only?
Yes
Quest item?
No
Tradeable?
Yes
Equipable?
No
Stackable?
Yes
High Alch
12 coins
Low Alch
8 coins
Destroy
Drop
Store price
Not sold
Exchange price

261

coins (info)
Buy limit
Unknown
Weight
0 kg
Examine
Ground-up lava dragon scale.
[view]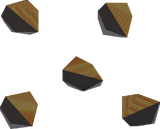 Lava scale shards are the result of using a pestle and mortar on a lava scale, which is dropped by lava dragons and brutal black dragons. Players obtain 3-6 shards from grinding a scale. When the hard wilderness diary is completed, the player will receive 6-9 shards per scale.
It can also be obtained by using a hammer on an infernal eel, which has a requirement of 80 fishing, and yields 1-5 shards.
They are an ingredient in extended antifires (1 shard per dose made), which require 84 Herblore to create.
Ad blocker interference detected!
Wikia is a free-to-use site that makes money from advertising. We have a modified experience for viewers using ad blockers

Wikia is not accessible if you've made further modifications. Remove the custom ad blocker rule(s) and the page will load as expected.