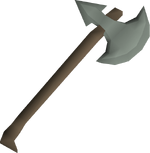 The leaf-bladed battleaxe is one of three melee weapons used to harm turoths and kurasks, the others being the leaf-bladed spear and sword. When fighting these monsters with the battleaxe, it will deal 17.5% more damage.
The axe requires an Attack level of 65 and a Slayer level of 55 to wield. It is dropped by kurasks located in the Fremennik Slayer Dungeon.
The leaf-bladed battleaxe has the highest strength bonus out of all one-handed melee weaponry, exceeding the dragon battleaxe, having a higher slash and crush bonus than its dragon counterpart. In addition, unlike standard battleaxes, the leaf-bladed battleaxe exhibits a faster attack speed of 5, instead of the usual 4, resulting in significantly more damage per minute.
Bonuses
Hover over image for type
 Attack bonus
-2
+72
+72
+0
+0
 Defence bonus
+0
+0
+0
+0
-1
Other bonuses
Slot

list

+92
0
0%
+0
Combat styles
Edit
Dropping monsters
Edit
| Monster | Combat level | Quantity | Rarity |
| --- | --- | --- | --- |
| Kurask | 106 | 1 | |
| King kurask | 295 | 1 | |
The attack animation of the battleaxe reuses the one that the various barbarian spirits found in the Ancient Cavern use (such as Angry barbarian spirit).
Due to player complaints of the leaf-bladed sword inflicting more damage per second than the battleaxe, its passive damage bonus was introduced in the update of 30th November 2017. The same update saw its slash accuracy increased from 50 to 72.
Scimitar

 Bronze •  Iron •  Steel •  Black •  White •  Mithril •  Adamant •  Rune •  Gilded •  Dragon (or)

Longsword

 Bronze •  Iron •  Steel •  Black •  White •  Mithril •  Adamant •  Katana •  Rune •  Granite •  Dragon •  3rd age

Battleaxe

 Bronze •  Iron •  Steel •  Black •  White •  Mithril •  Adamant •  Rune •  Leaf-bladed •  Dragon

Claws

 Bronze •  Iron •  Steel •  Black •  White •  Mithril •  Adamant •  Rune •  Dragon

Halberd

 Bronze •  Iron •  Steel •  Black •  White •  Mithril •  Adamant •  Rune •  Dragon •  Crystal

Two-handed sword

| | |
| --- | --- |
| Standard |  Bronze •  Iron •  Steel •  Black •  White •  Mithril •  Adamant •  Rune •  Gilded •  Dragon |
| Godswords | |
| Other | |

Quests

 Blurite •  Anger sword •  Anger battleaxe •  Excalibur •  Silverlight •  Darklight •  Wooden spoon •  Skewer •  Cleaver

Castle Wars

Other

 Iron sickle •  Silver sickle (b) •  Starter sword •  Spear •  Harry's cutlass •  Lucky cutlass •  Brine sabre •  Fremennik •  Arclight •  Abyssal whip (volcanic) (frozen) •  Abyssal tentacle
Equipment from Slayer Masters

 Broad arrows •  Earmuffs •  Facemask •  Insulated boots •  Leaf-bladed spear •  Nose peg •  Mirror shield •  Slayer gloves •  Slayer's staff •  Spiny helmet •  Lit bug lantern •  Witchwood icon

Items from Slayer Masters

 Bag of salt •  Enchanted gem •  Fishing explosive •  Fungicide spray •  Fungicide •  Rock hammer •  Rock thrownhammer •  Ice cooler •  Slayer bell •  Broad arrowheads •  Unfinished broad bolts •  Broad arrowhead pack •  Unfinished broad bolt pack

Purchased with Slayer reward points

 Slayer ring •  Broad bolts •  Herb sack •  Slayer helmet (imbued) •  Black slayer helmet (imbued) •  Green slayer helmet (imbued) •  Red slayer helmet (imbued) •  Purple slayer helmet (imbued) •  Turquoise slayer helmet (imbued)

Others

 Black mask (imbued) •  Leaf-bladed sword •  Leaf-bladed battleaxe •  Slayer's staff (e)