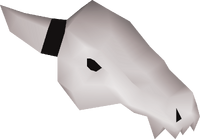 The left skull half is part of the skull sceptre. The left skull half is used with the right skull half to obtain a strange skull. It is dropped by ankou on the fourth level of the Stronghold of Security. The left skull half can't be traded or withdrawn as a noted item from the bank. Either skull half is more difficult to obtain than the other parts of the sceptre. The left skull half takes the most effort to obtain from all of the pieces, due to the difficulty in killing ankou compared to the weaker monsters which drop pieces of the skull sceptre.
The skull half looks like half of a minotaur skull, while, oddly, the right half would look more like an ankou's skull, and is dropped by minotaurs, possibly indicating fighting between the two monsters. This tends to be dropped with a battlestaff or an uncut gem.
Dropping monsters
Edit
| Monster | Combat level | Quantity | Rarity |
| --- | --- | --- | --- |
| Ankou | 75; 82; 86 | 1 | |
 Strange skull

 Right skull half •  Left skull half

 Runed sceptre
Ad blocker interference detected!
Wikia is a free-to-use site that makes money from advertising. We have a modified experience for viewers using ad blockers

Wikia is not accessible if you've made further modifications. Remove the custom ad blocker rule(s) and the page will load as expected.