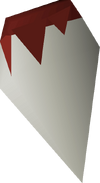 The lizardman fang is a common drop from lizardmen and their brute and shaman counterparts in Lizardman Canyon or the Lizardman Settlement, north and west of the Shayzien House respectively.
They are used to charge teleports on Xeric's talisman. Each lizardman fang provides one teleport charge.
Dropping monsters
Edit
Ad blocker interference detected!
Wikia is a free-to-use site that makes money from advertising. We have a modified experience for viewers using ad blockers

Wikia is not accessible if you've made further modifications. Remove the custom ad blocker rule(s) and the page will load as expected.