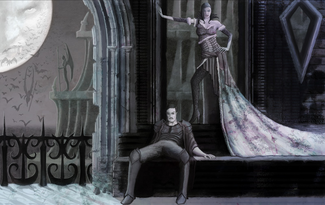 Lord Drakan is the vampyre overlord and tyrant of Morytania. He had rebelled against Zaros with Zamorak. He now resides in Meiyerditch, the capital of Morytania. He has made the Vyrewatch of Sanguinesti to collect blood tithes from the people. The Drakan family have been ruling Morytania for centuries. Luckily, Drakan's hordes of vampires and werewolves can't cross the holy River Salve. Drakan is not actually seen yet in the game, but is hiding in his castle at Meiyerditch.
Drakan's Timeline
Edit
References
Edit
Ad blocker interference detected!
Wikia is a free-to-use site that makes money from advertising. We have a modified experience for viewers using ad blockers

Wikia is not accessible if you've made further modifications. Remove the custom ad blocker rule(s) and the page will load as expected.