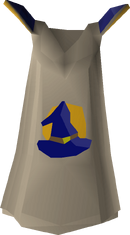 A Magic cape can be purchased for 99,000 coins alongside the Magic hood from Robe Store Owner at the Wizards' Guild by players who have achieved level 99 Magic. It is the Cape of Accomplishment for the Magic skill. Whereas most skill capes are colored in grey, the magic cape is the only cape to have gold coloring on the upper chest and back areas, along with the edges of the shoulder plates.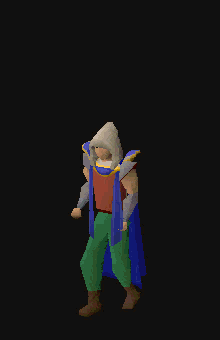 Like all skill capes, the Magic cape gives +9 to all defensive stats, and also a +4 bonus to prayer if it is trimmed, which requires a separate skill at level 99. The cape is automatically trimmed if this condition is met.
Players may use the cape to change to any spell book that they already have unlocked, but it is limited to five uses per day.
As of 1 December 2017, there are 52,826 current members that have achieved level 99 in Magic.
Bonuses
Hover over image for type

A player wearing an untrimmed magic cape.

A player wearing a trimmed magic cape.
 Attack bonus
+0
+0
+0
+0
+0
 Defence bonus
+9
+9
+9
+9
+9
Other bonuses
Slot

list

+0
0
0%
+0 (+4 trimmed)
Capes

 Agility (Hood) •  Attack (Hood) •  Hitpoints (Hood) •  Construction (Hood) •  Cooking (Hood) •  Crafting (Hood) •  Defence (Hood) •  Farming (Hood) •  Firemaking (Hood) •  Fishing (Hood) •  Fletching (Hood) •  Herblore (Hood) •  Hunter (Hood) •  Magic (Hood) •  Mining (Hood) •  Prayer (Hood) •  Ranging (Hood) •  Runecrafting (Hood) •  Slayer (Hood) •  Smithing (Hood) •  Strength (Hood) •  Thieving (Hood) •  Woodcutting (Hood) •  Quest point (Hood) •  Achievement diary (Hood) •  Music (Hood) •  Max (Hood)

Cape sellers

 Cap'n Izzy No-Beard •  Ajjat •  Surgeon General Tafani •  Estate agent •  Head chef •  Master Crafter •  Harlan •  Martin the Master Gardener •  Ignatius Vulcan •  Master fisher •  Hickton •  Kaqemeex •  Hunting expert •  Robe Store owner •  Gadrin •  Brother Jered •  Armour salesman •  Aubury •  Duradel •  Thurgo •  Sloane •  Martin Thwait •  Woodsman tutor •  Wise Old Man •  Twiggy O'Korn •  Olaf the Bard •  Mac

Emote

Skillcape
Ad blocker interference detected!
Wikia is a free-to-use site that makes money from advertising. We have a modified experience for viewers using ad blockers

Wikia is not accessible if you've made further modifications. Remove the custom ad blocker rule(s) and the page will load as expected.