The magic shortbow (i) is a bow that requires level 50 Ranged in order to use, and is obtained by using a magic shortbow scroll (obtained from the Bounty Hunter Store in Edgeville) on a regular magic shortbow.
The imbued bow has +75 Ranged attack, instead of the regular bow's +69, and uses 50% of the special bar when performing the special attack, instead of the regular bow's 55%.
When using rune arrows, this shortbow does comparable damage-per-second to broad bolts. Due to the way that a player's Ranged level increases damage independent of ranged strength, this shortbow may deal more damage per second against targets with lower Defence.
Bonuses
Hover over image for type

A player wielding a magic shortbow
 Attack bonus
+0
+0
+0
+0
+75
 Defence bonus
+0
+0
+0
+0
+0
Other bonuses
Slot

list

+0
+0
+0%
+0
Special attack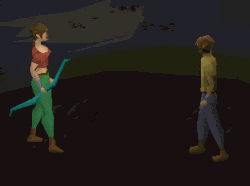 This weapon retains the standard magic shortbow's
special attack
,
Snapshot
, which will shoot two arrows in rapid succession but with lowered accuracy, using 50% of a player's special attack energy. With perfect timing, this bow can hit three times in one
game tick
.
However, damage inflicted by Snapshot is unaffected by ranged prayers (such as Eagle Eye and Rigour) and the slayer helmet (i).
Combat styles
Shortbows

 Normal(u) •  Oak(u) •  Willow(u) •  Maple(u) •  Yew(u) •  Magic(u) (i)

Longbows

 Normal(u) •  Oak(u) •  Willow(u) •  Maple(u) •  Yew(u) •  Magic(u)

Composite bows

Special bows

 Training •  Starter •  Cursed goblin •  Ogre •  Seercull •  Craw's •  Dark •  3rd age •  Crystal •  Twisted

Crossbows

 Normal •  Phoenix •  Bronze •  Blurite •  Iron •  Steel •  Mithril •  Dorgeshuun •  Adamant •  Hunters' •  Rune •  Dragon •  Dragon hunter •  Karil's •  Armadyl

Ballistae
Darts

 Bronze •  Iron •  Steel •  Black •  Mithril •  Adamant •  Rune •  Dragon •  Toxic blowpipe

Throwing knife
Throwing axes

 Bronze •  Iron •  Steel •  Mithril •  Adamant •  Rune •  Dragon •  Morrigan's

Chinchompas
Other items

 Arrows •  Bolts •  Cannon •  Cannonball •  Granite cannonball •  Holy water •  Javelins •  Mud pie •  Toktz-xil-ul