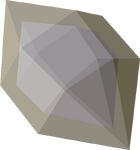 A Magic stone is used in the construction skill. It is used to build very high level items in a Player-owned house. It is available from the Keldagrim stonemason for the price of 975,000 coins each.
When asking a servant to fetch materials from the bank, magic stone is listed as 'Magic housing stone'.
Planks
Nails
Stonemason

 Limestone brick •  Marble block •  Gold leaf •  Magic stone

Signet
Sir Renitee

Other

 Ancient crystal •  Bagged plants •  Bolt of cloth • Boss jars •  Clockwork •  Fairy enchantment •  Skull • Stuffed heads • Stuffed fish
Ad blocker interference detected!
Wikia is a free-to-use site that makes money from advertising. We have a modified experience for viewers using ad blockers

Wikia is not accessible if you've made further modifications. Remove the custom ad blocker rule(s) and the page will load as expected.