The Make-over mage is a wizard located in a house south-west of Falador, directly north of the Crafting Guild. The house is surrounded by lots of sheep. For 3,000 coins or the makeover voucher, they allow the player to change their appearance. The options they give are to change their skin colour or their gender. The Make-over mage changes gender every 10 seconds or so.
By default, the options are set to the current gender and skin colour of players' characters. Click on a colour or gender to change it—either or both will cost 3,000 coins.
The Make-over mage also sells Yin yang amulets. They are non-tradeable and offer no bonuses, but can be bought for 100 coins.
There are sheep just outside their house for shearing (players can spin the wool into a ball of wool at the Crafting Guild. There is also a useless frog in their house. However, the Make-over mage will never mess with changing a player's appearance.
The Make-over mage used to give haircuts and clothing changes in RuneScape Classic; however, this was removed. For haircuts, see the Hairdresser in Falador. To change clothes, see Thessalia in Varrock. After completing the Fremennik Trials quest, members can change shoes at the clothing shop in Rellekka.
Members can also change clothing, shoes, and hairstyles free of charge with dressers and wardrobes. These are build-able furniture items for the bedroom in player-owned houses, created through the Construction skill.
The Make-over mage is also sometimes required in the Recruitment Drive quest, where the player must defeat someone that no man can defeat. If they are male, they must go to the Make-over mage and become female. After the quest, they will be reimbursed for the 3,000 coin fee, and be given a makeover voucher, which can be used for one free makeover.
If a player has completed the 2016 Halloween Event, they are able to get additional skin colors of green, black, and white.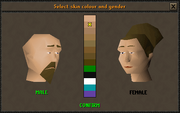 Characters

Party Pete • Mugger • Bartender • Bob • Duke Horacio • Hans • Horvik • King Roald • Leela • Make-over mage • Ned • Sir Vyvin • Thessalia • Wise Old Man • Gnome child • Aggie • Evil Dave • Cow31337Killer • Squire • Kaylee • Sergeant Damien • Lucy • Megan • Lutist • Tim • Crunchy • Gabe

Items

Rewards

 4th birthday hat •  Birthday balloons • Smooth dance • Crazy dance
Ad blocker interference detected!
Wikia is a free-to-use site that makes money from advertising. We have a modified experience for viewers using ad blockers

Wikia is not accessible if you've made further modifications. Remove the custom ad blocker rule(s) and the page will load as expected.