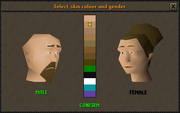 A Makeover is a feature in RuneScape that allows players to change their character's appearance chosen during the tutorial. Their appearance can be changed after the tutorial in a number of places, listed in the table below.
Players can also change their hair at a dresser and their clothing at a wardrobe in a player-owned house bedroom. This does not cost anything, but it is chosen at random and players may have to do it multiple times to get the desired result.
Ad blocker interference detected!
Wikia is a free-to-use site that makes money from advertising. We have a modified experience for viewers using ad blockers

Wikia is not accessible if you've made further modifications. Remove the custom ad blocker rule(s) and the page will load as expected.