Maple seed
Release date
11 July 2005 (Update)
Farming level
45
Exchange price

49,117

coins (info)
Patch
Tree
Time
320 min (8x40 min)
Planting XP
45
Check-health XP
3403.4
Harvesting XP
N/A
Payment
1 Basket of oranges
Tradeable?
Yes
High alch
28 coins
Low alch
19 coins
Store price
Not sold
Examine
Plant this in a plantpot of soil to grow a sapling.
[view] • [talk]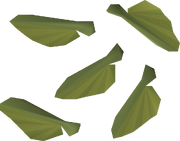 Maple seeds are the fourth highest level tree seeds. At level 45 Farming, maple seeds may be planted in plant pots with a trowel and watered to become maple saplings.
After planting the sapling in a tree patch and waiting for it to fully grow, which takes 5 hours and 20 minutes, the plant will grow into a maple tree which can be cut to yield maple logs (and grant Woodcutting experience). Planting the maple sapling yields 45 experience, and checking the health gives you 3403. This comes to a total of 3448 experience per maple tree.
When cut down, the tree will automatically regrow after a period of time. Alternatively, it can be dug up using a spade or by paying the gardener a small fee, yielding some maple roots in the process.
The gardener will look after your maple tree in exchange for 1 basket of oranges.
Dropping monsters
Edit
Allotment

 Potato •  Onion •  Cabbage •  Tomato •  Sweetcorn •  Strawberry •  Watermelon

Flower

 Marigold •  Rosemary •  Nasturtium •  Woad •  Limpwurt

Herb

 Guam  Marrentill •  Tarromin •  Harralander •  Gout tuber •  Ranarr •  Toadflax •  Irit •  Avantoe •  Kwuarm •  Snapdragon •  Cadantine •  Lantadyme •  Dwarf weed •  Torstol

Hop

 Barley •  Hammerstone •  Asgarnian •  Jute •  Yanillian •  Krandorian •  Wildblood

Bush

 Redberry •  Cadavaberry •  Dwellberry •  Jangerberry •  Whiteberry •  Poison ivy

Tree
Fruit tree

 Apple tree •  Banana tree •  Orange tree •  Curry tree •  Pineapple •  Papaya tree •  Palm tree

Special seeds

 Seaweed •  Teak •  Grape •  Mushroom •  Mahogany •  Cactus •  Belladonna •  Calquat •  Spirit

Tithe Farm seeds

Other seeds

 Blindweed •  Crystal (small) •  Grass •  Hardy gout tubers •  Kelda •  Pine tree •  White pearl

Chambers of Xeric
Garden of Tranquillity

 Delphinium •  Pink orchid •  Pink rose •  Red rose •  Snowdrop •  Vine •  White rose •  Yellow orchid
Ad blocker interference detected!
Wikia is a free-to-use site that makes money from advertising. We have a modified experience for viewers using ad blockers

Wikia is not accessible if you've made further modifications. Remove the custom ad blocker rule(s) and the page will load as expected.