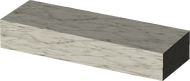 Marble blocks are used in the Construction skill. They can be bought in Keldagrim from the Stonemason for 325,000 coins. Players can begin using marble blocks once they reach level 63 Construction; the first item that can be made that requires Marble Blocks is a Marble fireplace. Marble blocks are also one of the more common high level building materials required to build furniture or decorations in a player-owned house. Unlike Limestone bricks, a player cannot make them. Keldagrim's Stonemason is the only NPC in RuneScape who sells marble blocks. You can use marble block to construct a gilded altar requiring 75 construction. (67 if using spicy stew and a crystal saw).
Ad blocker interference detected!
Wikia is a free-to-use site that makes money from advertising. We have a modified experience for viewers using ad blockers

Wikia is not accessible if you've made further modifications. Remove the custom ad blocker rule(s) and the page will load as expected.