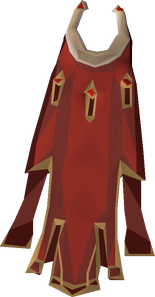 The max cape is a cape available to players who have attained level 99 in all 23 skills. It is sold by Mac for 2,277,000 coins. Mac is located on an island west of the Warriors' Guild, beyond the ladder that leads to Cyclops. To reach him, the player needs a pickaxe and an axe.
The minimum total level a player needs for the max cape is 2,277, the minimum amount of experience required being 299,791,913. When purchased, it comes along with a corresponding hood. Its stats are equivalent to a trimmed skillcape. As such, it inherits all the skillcape perks from other skillcapes.
Mac will purchase excess max capes for 1,821,600 coins. This can only be done if the player has both the hood and cape in their inventory. Other max cape variants can be refunded in the same manner.
As of 13 January 2018, there are 2,601 current members that have achieved level 99 in all skills.
The max cape's emote shows all 23 skills flying above the character's head, and a winners podium stylised like the stats interface icon, with the player floating over the winning position.
Bonuses
Hover over image for type
 Attack bonus
+0
+0
+0
+0
+0
 Defence bonus
+9
+9
+9
+9
+9
Other bonuses
Slot

list

+0
0
0%
+4
Due to game engine limitations, the max cape's colours cannot be changed freely like it can in RuneScape 3. However, there exists several variants of the max cape that are of different colours than the default appearance.
Players can use the max cape on certain best-in-slot cape items, which will change the stats of the max cape to those of the item being combined. This requires both the max cape and max hood in their inventory. When combined, the max cape will lose its perks, making it merely a cosmetic enhancement to the original item.
The items that can be combined are as follows:
Hoods

 Max •  Fire •  Ava's •  Saradomin •  Zamorak •  Guthix •  Ardougne •  Infernal •  Saradomin (i) •  Zamorak (i) •  Guthix (i) •  Assembler

Capes

 Max •  Fire •  Ava's •  Saradomin •  Zamorak •  Guthix •  Ardougne •  Infernal •  Saradomin (i) •  Zamorak (i) •  Guthix (i) •  Assembler
Capes

 Agility (Hood) •  Attack (Hood) •  Hitpoints (Hood) •  Construction (Hood) •  Cooking (Hood) •  Crafting (Hood) •  Defence (Hood) •  Farming (Hood) •  Firemaking (Hood) •  Fishing (Hood) •  Fletching (Hood) •  Herblore (Hood) •  Hunter (Hood) •  Magic (Hood) •  Mining (Hood) •  Prayer (Hood) •  Ranging (Hood) •  Runecrafting (Hood) •  Slayer (Hood) •  Smithing (Hood) •  Strength (Hood) •  Thieving (Hood) •  Woodcutting (Hood) •  Quest point (Hood) •  Achievement diary (Hood) •  Music (Hood) •  Max (Hood)

Cape sellers

 Cap'n Izzy No-Beard •  Ajjat •  Surgeon General Tafani •  Estate agent •  Head chef •  Master Crafter •  Harlan •  Martin the Master Gardener •  Ignatius Vulcan •  Master fisher •  Hickton •  Kaqemeex •  Hunting expert •  Robe Store owner •  Gadrin •  Brother Jered •  Armour salesman •  Aubury •  Duradel •  Thurgo •  Sloane •  Martin Thwait •  Woodsman tutor •  Wise Old Man •  Twiggy O'Korn •  Olaf the Bard •  Mac

Emote

Skillcape
Ad blocker interference detected!
Wikia is a free-to-use site that makes money from advertising. We have a modified experience for viewers using ad blockers

Wikia is not accessible if you've made further modifications. Remove the custom ad blocker rule(s) and the page will load as expected.