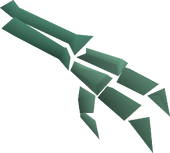 Medium enriched bones are obtained by using medium fossils obtained from Fossil Island and depositing them into the mycelium pool. Players must add pyrophosphite and calcite along with the fossil to calcify it.
They are then used on the eastern strange machine inside the House on the Hill for 200 Prayer experience.
Standard bones
Draconic bones

 Baby dragon •  Dragon •  Wyvern •  Lava dragon

Monkey bones

 Karamjan •  Small zombie •  Big zombie •  Gorilla •  Bearded gorilla •  Small ninja •  Medium ninja •  Skeleton gorilla

Ogre bones

 Jogre (Burnt) (Pasty) (Marinated) •  Zogre •  Fayrg •  Raurg •  Ourg

Enriched bones

Special bones

 Curved •  Long •  Chewed •  Mangled •  Shaikahan •  Sheep (1) (2) (3) (4)
Ad blocker interference detected!
Wikia is a free-to-use site that makes money from advertising. We have a modified experience for viewers using ad blockers

Wikia is not accessible if you've made further modifications. Remove the custom ad blocker rule(s) and the page will load as expected.