Menaphos is a city located far south in the Kharidian Desert. It is not yet accessible due to the inhabitants' fear of the plague in neighbouring Sophanem.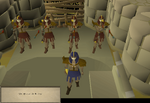 In the quest Contact! the High Priest of Sophanem, after having been chased away by Menaphite rangers, asks the player to help him get back into contact.
Ad blocker interference detected!
Wikia is a free-to-use site that makes money from advertising. We have a modified experience for viewers using ad blockers

Wikia is not accessible if you've made further modifications. Remove the custom ad blocker rule(s) and the page will load as expected.