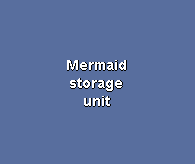 The Mermaid storage unit is a vast ocean south of Zeah. It is unknown what lies here, aside from the assumption that mermaids inhabit these waters.
On 21 January 2016, the mermaid storage unit was removed from the official world map. According to Mod Ash (jokingly), the mermaid storage unit has sunk.[1]
References
Edit
↑ Jagex. Mod Ash's Twitter account. 20 January 2016. Mod Ash: "It [The mermaid storage unit] sank."
Ad blocker interference detected!
Wikia is a free-to-use site that makes money from advertising. We have a modified experience for viewers using ad blockers

Wikia is not accessible if you've made further modifications. Remove the custom ad blocker rule(s) and the page will load as expected.