Mithril seeds are a magical type of seed that can be planted almost anywhere to grow some flowers in the ground. On planting the seeds, the player will move one adjacent square then be given the option to pick the flowers. Picking the flowers produces one of 9 different colors of Flowers. It is confirmed that the odds of obtaining black flowers are 2/1,001, and white flowers are 1/1,001.
40 Mithril Seeds are a reward for completion of the Waterfall Quest. Players can buy them at the Legends' Guild. 
On 18 March 2013, along with gambling becoming against the Runescape Rules of Conduct, the way that the seeds worked was mended so that when planted, the appearance of all flowers in the ground now have the same image, but when picked up, then the difference in colors can be seen. The flowers were the main tool for gamblers because of the randomness in which color of flower would grow when the seeds were planted.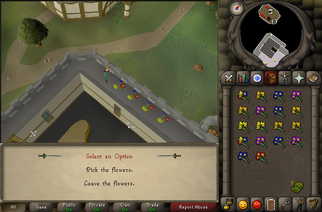 The change vastly cut the supply of white and black flowers down. Where it used to be that people could simply plant the seeds until a white or black flower appeared, then picked that flower, now a person looking to produce a black or white flower needs to pick up every single flower that he plants, lengthening the amount of time it takes to find one and making it much more tedious for a player to do.
Percentages
Edit
The probabilities in this section are an estimation based on the data of planting 10,000 mithril seeds.
Seeds

 Marigold seed •  Rosemary seed •  Nasturtium seed •  Woad seed •  Limpwurt seed

Garden of Tranquillity

 Delphinium •  Pink orchid •  Pink rose •  Red rose •  Snowdrop •  White rose •  Yellow orchid

Farmed flowers

 Marigolds •  Rosemary •  Nasturtiums •  Woad leaf •  Limpwurt root

POH

 Thistle •  Sunflower •  Marigolds •  Roses •  Rosemary •  Daffodils •  Bluebells

Coloured

 Mithril seeds •  Assorted flowers •  Black flowers •  Blue flowers •  Mixed flowers •  Orange flowers •  Purple flowers •  Red flowers •  White flowers •  Yellow flowers

Other

 Blue flowers •  Cicely •  Exotic flower •  Medivaemia blossom •  Red flowers •  Star flower •  Trollweiss •  Troll thistle
Ad blocker interference detected!
Wikia is a free-to-use site that makes money from advertising. We have a modified experience for viewers using ad blockers

Wikia is not accessible if you've made further modifications. Remove the custom ad blocker rule(s) and the page will load as expected.