| | |
| --- | --- |
| Start point | Speak to Brother Omad at the Monastery south of Ardougne. |
| Official difficulty | Novice |
| Description | A monk's child has had their blanket stolen. Find the thieves' den and return the blanket, then help Brother Omad organize the drinks for the child's birthday party. |
| Length | Short |
| Requirements | The ability to run past level 14 Thieves, along with a level 26 one. |
| Items required | 1 Jug of water and Logs (regular) |
| Enemies to defeat | None |
Walkthrough
Edit
Talk to Brother Omad at the monastery south of Ardougne (options 1-1).
Head west of the Monastery and slightly southwest of the Clocktower to find a perfect stone circle, enter it and a ladder will appear. Go down it.
Follow the south path and pick the Child's Blanket up.
Return to Brother Omad and talk to him twice (options 1-2).
Directly south of the camel pen (Ardougne Zoo), talk three times to Brother Cedric (option 2).
Return to Brother Omad.
Quest complete!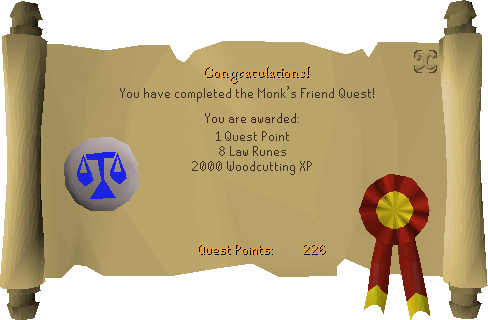 Ad blocker interference detected!
Wikia is a free-to-use site that makes money from advertising. We have a modified experience for viewers using ad blockers

Wikia is not accessible if you've made further modifications. Remove the custom ad blocker rule(s) and the page will load as expected.