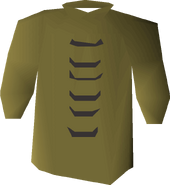 A mourner top is an article of clothing that may be equipped on the torso slot of a player character. To obtain one, players must kill a level 11 Mourner on the path to Prifddinas. However, the Mourner will bring all combat stats down to 20, so it is recommended players bring a stat restore potion or a super restore potion, although a stat restore potion is a cheaper option. The top is identical to a Plague jacket, with the exception of the built-in gloves.
This, along with the rest of the mourner gear CANNOT be used to enter the incinerator area north of West Ardougne.
Bonuses
Hover over image for type
 Attack bonus
+0
+0
+0
+0
+0
 Defence bonus
+0
+0
+0
+0
+0
Other bonuses
Slot

list

+0
0
0%
+0
Ad blocker interference detected!
Wikia is a free-to-use site that makes money from advertising. We have a modified experience for viewers using ad blockers

Wikia is not accessible if you've made further modifications. Remove the custom ad blocker rule(s) and the page will load as expected.